Enjoy ultimate power security and independence during off-grid trips with emoose's power stations – the world's first portable batteries built on modular platform architecture. Using chainable power, two emoose batteries provide up to 3004Wh of continuous charging with its unique Duo Mode. By introducing Polymer NCM and LiFePO4 battery, emoose's power stations have 3 times lifespan comparing with existing products in the market, which set a new indutry standard.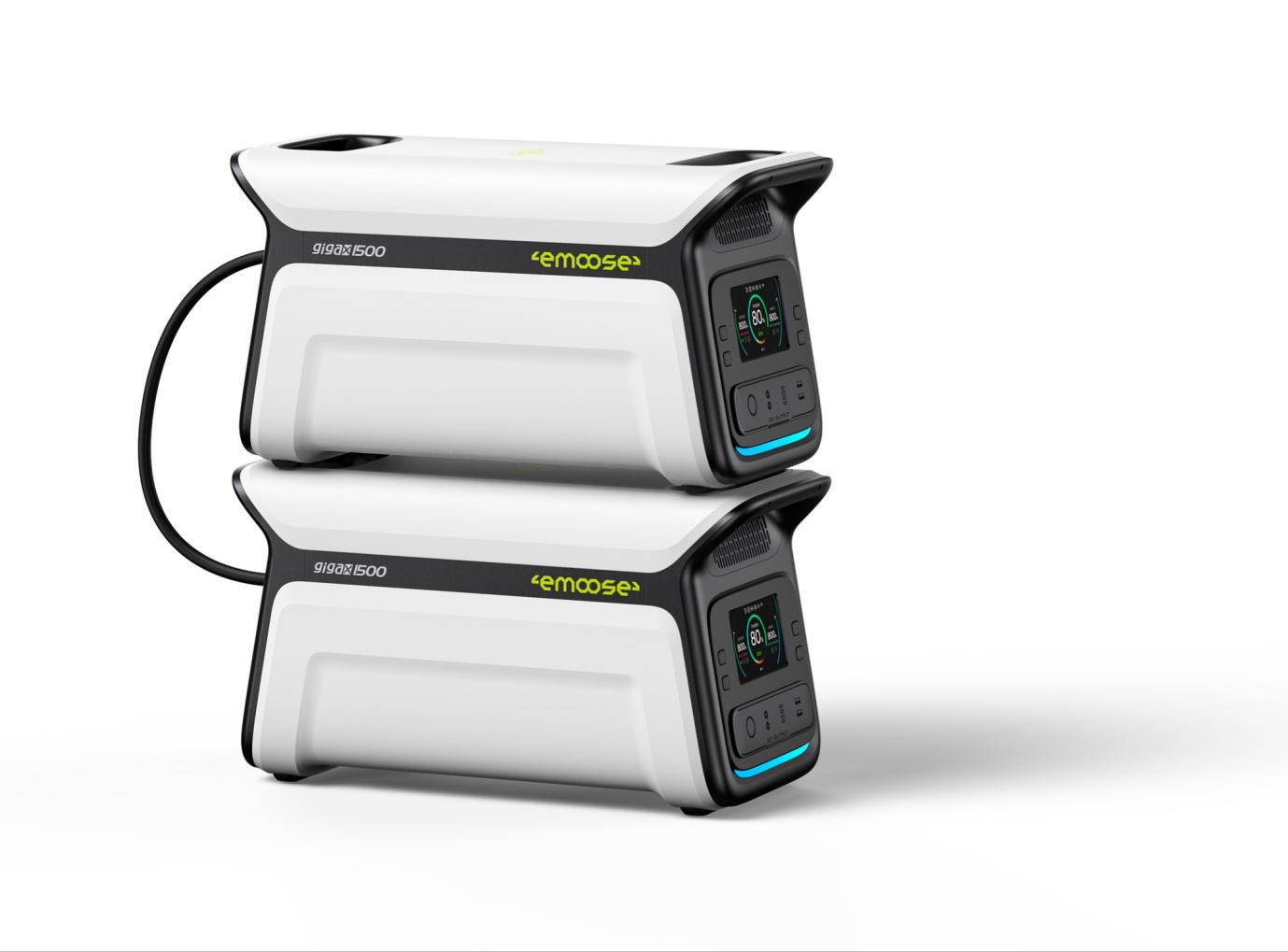 Delivering unparalleled power in a compact package, emoose's GIGA X1500 and X1200 models will launch on crowdfunding platform Indigegogo on March 31st, 2023.
Storing up to a whopping 1502Wh in power when fully charged, the emoose GIGA X1500 can operate a 55" television for more than 17 hours, charge an iPhone over 60 times, or power a mini fridge for more than 10 hours. The power station – which runs on NCM battery technology – boasts 2400W output and 12 outlets (three AC, four USB-C, two USB-A and three DC), ensuring compatibility with almost all household appliances, such as cooking equipment, power tools, and portable heaters or air conditioners.
What really sets an emoose power station apart is its Duo Mode and Turbo BOOST™ features. Duo Mode unlocks double the power and capacity by chaining two emoose power stations in parallel, transforming the two devices into a 4800W and 3004Wh energy generator that powers heavy duty devices or multiple appliances all at once. The Turbo BOOST™ feature supplies power with a wattage of up to 3000W while also ensuring that connected devices are protected from overload damage.
Charging time is drastically reduced with emoose's fast-charging capabilities enabled by POWER TURBO™ inverter technology – the devices can go from 0 to 80% power capacity in just 50 minutes. Espousing sustainability and working towards a low-carbon future, emoose power stations also minimize its carbon footprint with 600W-input solar panels, allowing 100% solar recharge in just three hours.
Users can remotely control emoose power stations through a dedicated app, which connects to the device through WiFi, or Bluetooth when WiFi is unavailable. The emoose app, which will be available on both Apple's App Store and Google Play, also tracks the power station's capacity and amount of power generated, so that users can keep a close eye on their energy performance and generation rate. Firmware updates are automatically installed when the power station is connected to WiFi, thanks to emoose's intelligent OTA firmware.
Emoose power stations pack these features into a sleek, futuristic design that provides an angled 4-inch by 3-inch touchscreen display for easy control and viewing of charging status, battery condition, and app connection; double handles for portability; and a hardy shock- and water-resistant shell for increased durability.
The emoose GIGA X1500 and X1200 power stations will be offered at a discounted price of $1,099 and $899 respectively during the Indiegogo crowdfunding campaign, and will be available on emoose.com and Amazon for $1,399 and $1,099 respectively from May 2023.
Company:EMOOSE TECHNOLOGY INC
Contact Person: Alex COOPER
Email: hello@emoose.com
Website: www.emoose.com
Telephone: +1 260 638 0777
City:NEW CASTLE
Address:257 Old Churchmans Rd. New Castle, Delaware
Disclaimer: This article is reproduced from other media. The purpose of reprinting is to convey more information. It does not mean that this website agrees with its views and is responsible for its authenticity, and does not bear any legal responsibility. All resources on this site are collected on the Internet. The purpose of sharing is for everyone's learning and reference only. If there is copyright or intellectual property infringement, please leave us a message.